Microsoft Teams is an online communication and team collaboration tool that's part of the Microsoft 365 suite. Teams provides single-point access to conversations, files, notes, tasks and more. Teams can be accessed from the web browser, desktop application or a mobile app. For not-for-profits, the maximum number of users who can access full functionality of Teams is based on the number of licensed users in your organisation.
Teams combines the features of Skype (chat/video conferencing), SharePoint and OneDrive (file sharing/collaboration), OneNote (notetaking), Planner (project management), and Stream (vlogs/video shares), as well as app plug-ins that bring together other tools like GSuite, MailChimp, Salesforce and more.
For many, Teams is a breath of fresh air compared to working with separate tools for email, file-sharing tools and phones. MS Teams was launched in 2017 and is newer than software like Zoom. As with any newer tool, best practice for how to use it is still developing, but the community of Teams gurus out there have created several resources to help you make the most of Teams.
This guide covers some everyday tips, tricks and etiquette for using Microsoft Teams. Following these guidelines should ensure you and your colleagues have an improved Teams experience by keeping things organised and productive while having fun.
General tips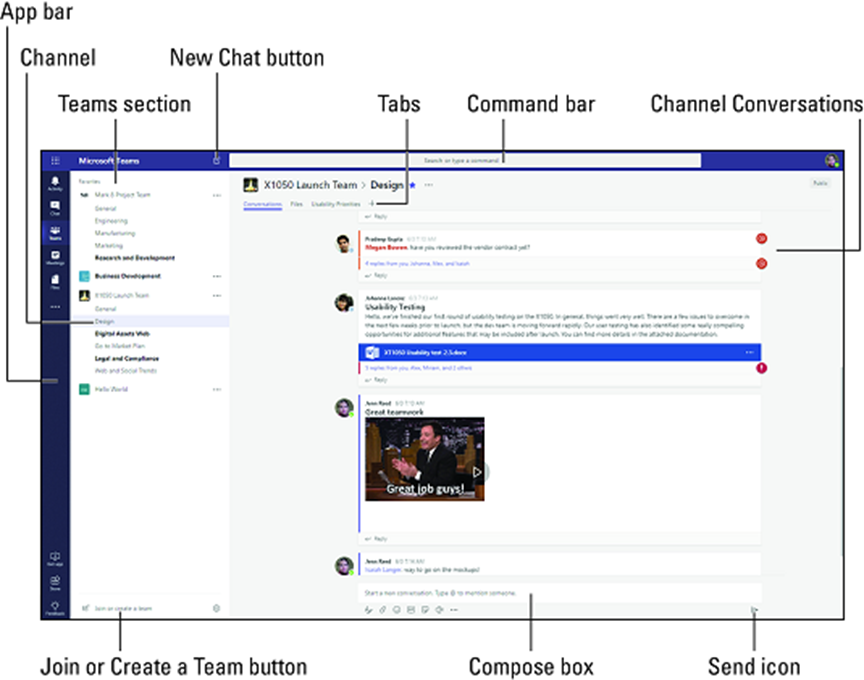 Many organisations use Teams as an internal, informal collaboration tool and rely on email for more formal, external communications.
It's not as hard as it might sound to juggle the two.
Improve team collaboration
Apps make it easier to stay in Teams to get your work done. The five most useful apps in Teams are:
These apps appear in Teams as a new tab alongside the default tabs: Posts, Files and Wiki. You can also add published SharePoint pages, lists and document libraries as individual tabs too.
Configure notifications
Notifications can become overwhelming, or perhaps they aren't telling you what you need to know. Check Settings in the desktop app or Notifications on mobile to change what you are notified about and how the notification arrives – for example with a pop-up, or without sound.
Use reactions as acknowledgment
Thumbs up is great in many organisations for acknowledging a message, "got it", "sounds good" or "okay". Depending on your team community and culture, love, laugh, wow, sad may be reserved for less formal messages.

Send links to files rather than attachments
The most valuable aspect of MS Office 365 is the ability to co-edit documents such as Word, Excel, and PowerPoint files simultaneously with others while retaining a single source of truth. You can collaborate on documents within Teams if it's a simple edit or select 'Edit in Desktop App' for more functionality. 
Never lose your file data again with version control
When versioning is enabled (which it is by default), you can see when an item or file was changed and who changed it. You can also see when properties (information about the file) were changed. For example, if someone changes the due date of a list item, that information appears in the version history. You can also see the comments people make when they check files into libraries. Find out more here.
Create task lists with Planner
Add the built-in Planner tab and keep shared project deliverables, tasks, meeting action items and reminders at the front of everyone's mind in your channel conversations.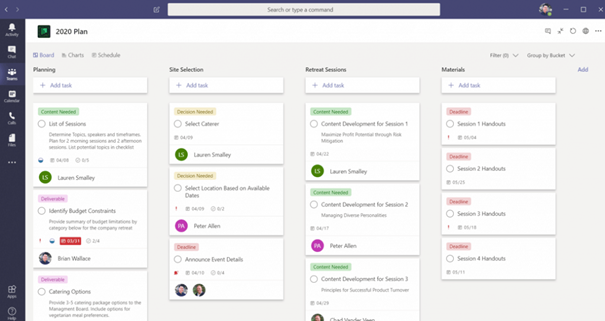 Do not assume you have privacy
Chats and meetings can be audited by those responsible for IT in your organisation. Any work-related IT tool can be monitored, but many people don't know this.
Channels
Use channels for collaboration on a specific project or topic.
This is where the work gets done - text, audio, and video conversations open to the whole team should be in a "channel". Files can be shared, and apps such as Wiki or Planner can be added (to the top tab). While channel conversations are shared, you can also chat between just you and someone else, or a group of people. This is in addition to meeting chats which are created when a meeting is organised. 
Separate the work from the fun stuff by creating a channel for it
Working remotely can be challenging. Why not create a dedicated channel for light-hearted stuff. Many people call this "Watercooler" or make up your own name..
Using @mention 
@mention-ing is equivalent to placing someone in To or cc'd field of an email. It's a great function to announce new individuals or draw the attention of a particular person to a post. It triggers a notification, which is useful, but don't overuse this feature or people will get too many notifications.
Using channel conversations 
Conversations have more features than simple chat and are Teams' replacement for disorganised, messy email threads. 
Here are some ways to keep conversations easy-to-follow, organised and clean.
Files in channels store differently 
When you upload a file in a channel conversation in Teams, you can't choose which folder to place it in - it's automatically added to the root folder. You can move the file later. 
However, best practice is to upload the document to the SharePoint folder where it belongs right away, and then share a link to the file. You can attach a link to the file by clicking the attachment icon and then selecting the link, or you can press the shortcut key CTRL + K on your keyboard and paste in the link.
Urgency in conversations is comparable to urgency in email
Use the ! button to mark a message as important, but don't overuse this feature.
Subject lines are there when starting new conversations
Just like you wouldn't miss the subject line from an email, make sure to add a "Subject" in Teams conversations.
Use announcements appropriately
These come with an image banner and large text. Don't overuse this feature as it takes up a lot of space. 

Files
Many users who start using Microsoft Teams don't have a clear understanding of where the files are stored. Files shared in a team channel in Microsoft Teams are stored in SharePoint. Each channel gets a dedicated folder in the SharePoint library associated with that team. Files sent as attachments via chat are stored in the sender's OneDrive in a folder called "Microsoft Teams Chat Files". Access permissions are automatically given to the people in the chat. It's important that users are aware of this, and that they understand the underlying technologies so that they don't get confused. 
To share and collaborate on a document, ensure the document is stored in the Teams file tab in correct folder and work jointly on that document.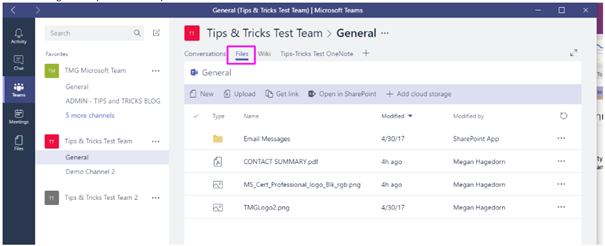 Sometimes you might not know where a document belongs. This could prompt you to discuss and establish rules around document management with your team, for example to agree on folder structure, naming conventions and permissions. 
Read the Information and Document design guide before using Teams for your documents. 
Sync your Teams files
You can sync your Microsoft Teams files to a folder on your computer. This lets you work directly in File Explorer and access files even when you're offline. And when you go back online, any changes made to those files will sync automatically. The sync process syncs one channel at a time, so if you want to sync files from another channel, you'll have to run through this process again. If you delete synched documents from OneDrive, then they will be deleted from Teams as well.

Sync files for offline access
Install the OneDrive app for offline access built directly into Windows Explorer, macOS Finder, and the OneDrive mobile app. This will allow you to work while travelling without needing WiFi. Find out how here.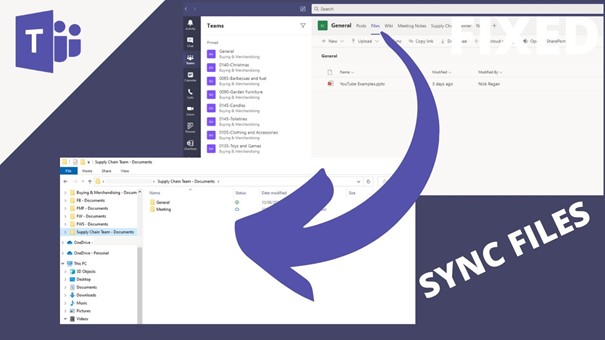 Sync Teams files with your local computer
If you are familiar with using File Explorer (Windows) or Finder (Mac) then you can sync your files with Teams and continue working on files usual. This means if you are without internet for a while you can keep working on a file and then when you are back online it will sync with Teams.
Keep files under 250GB
For files bigger than 250GB use OneDrive sync app to do the uploading for you. This kind of task can take some time, so schedule accordingly.
Where you upload your files matters
When you upload a file into the Files tab in a Channel, it gets saved to SharePoint. But, if you upload a file into a private chat, the file is saved in the uploader's OneDrive and shared automatically with everyone in the chat.
Using SharePoint to view files
When you're in the Files tab, click Open in SharePoint to access the files with all the added functionality SharePoint offers.
Private chat
Teams and channels are great for team-level discussions to replace work-related emails, but sometimes you just need a prompt response from a colleague about a coffee order. That's where private chat comes in.
Use for high priority questions or just to ping a workmate
Teams chat is like any other instant messenger application such as Facebook Messenger, Slack or WhatsApp. If you would have sent a message as an email in the past, you probably want to send the message in 'Conversations' in the right channel.
Use priority notification to alert in case of real urgency
You can click the "!" in the text toolbar. The recipient will receive notifications every two minutes for twenty minutes or until they read the message.
Keep conversations ad hoc
If the chat starts moving towards business decisions, bring it back to a channel.
Adding participants
When adding a new chat participant, you can select what you discussed before. Before adding any new members, Teams allows you to select chat history or not.
Rename private chats
A topic or group name can make chat easier to find when renamed. 
Respect the status
Pay attention to your colleagues' status.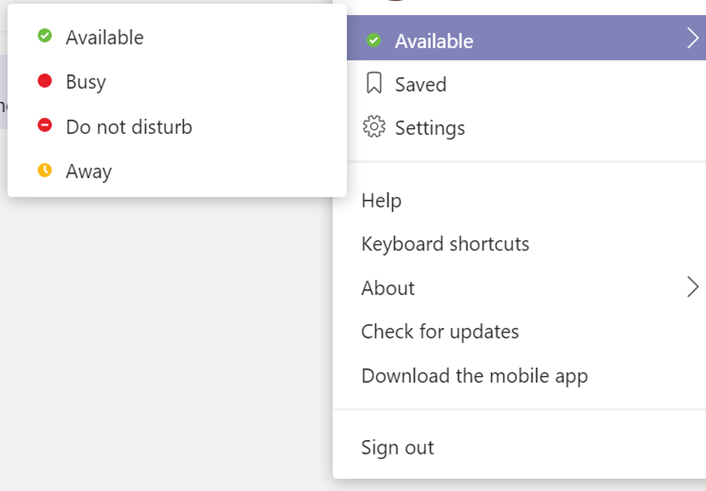 Saved chats
Remember! Files uploaded in private chat are saved in OneDrive. The file automatically uploads to the Microsoft Teams Chat Files folder in the OneDrive of the person who uploads it and is automatically shared with everyone in the chat.
Team owners
Team owners control Team settings, including team design, permissions, policies and naming conventions etc.
Meetings and calls
Teams is your home for audio and video conferencing and can be used as a telephony solution. Anyone can join a Teams meeting simply by opening a link in their browser, like Google Chrome or MS Edge.
Meetings and calls are better on the desktop app
The desktop app has more functionality than a call in the web browser or mobile, for example screen sharing or different gallery views.
Know your role
The meeting organiser can manage participants as presenters or attendees. Presenters have more options, including the ability mute all participants and share the screen. You can change roles during a meeting.
Use background effects
If you're working from home, or a sensitive environment, you can use Microsoft Teams background images to hide or transform your background.
In MS Teams, you have several options to hide your background:
Blur: Click audio and video settings when you join meeting, choose ellipses ("") for more options and tap on 'Blur my background'
Use image: Tap the … when in the meeting, click 'show background' effects and choose your preferred image – you can preview to test it out before applying.
Presenter views
Teams meetings can show up to 9 people in gallery view, up to 49 in large gallery view or display cut-outs of each participant together in a single background (Together Mode). You can also pin and spotlight people, so the right people stay on the screen.
Meeting participants tend to be more focused and have a better experience when they see a presenter along with a presentation. MS Teams recently introduced presenter modes such as Standout, Side-by-side, or Reporter in a Teams meeting instead of sharing screen or window content only, for better engagement. Learn more.
Standout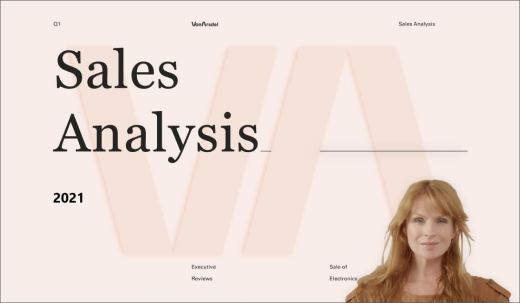 Side-by-side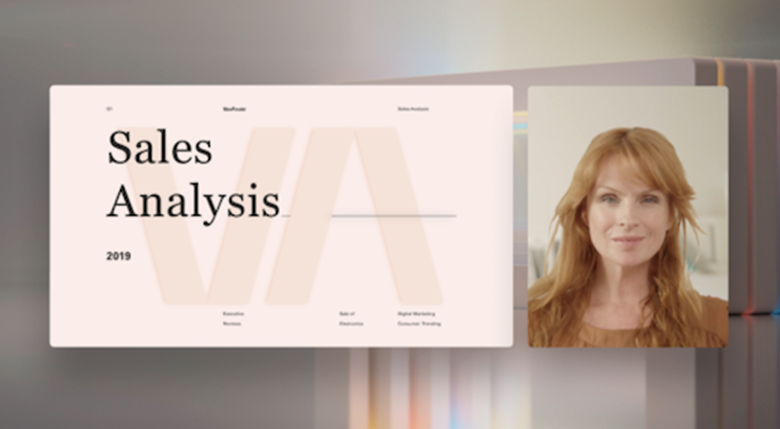 Reporter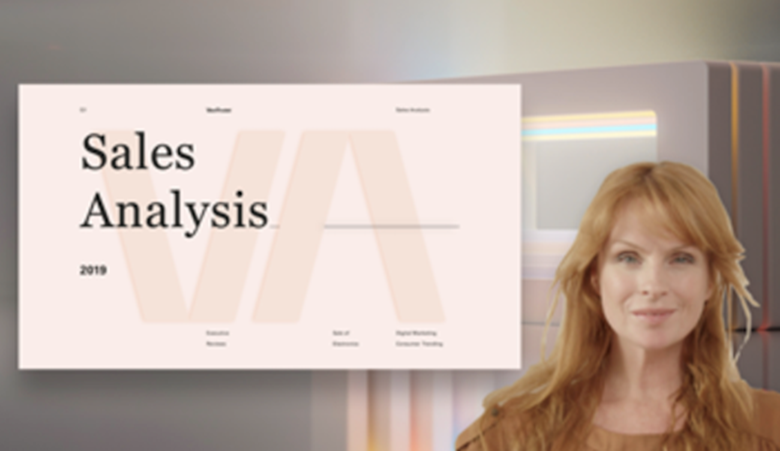 Stay on mute when you're not talking
That way people can't hear you cough or listen to your pets asking for attention.
Zoom in when sharing web pages
This helps attendees see what you're showing, which is usually smaller on their screens. Ctrl or ⌘ + = will zoom in most browsers.
Use chat to share without interrupting the speaker
It's helpful to share contact names, web links, and other information while someone else is talking. These chats are part of the channel, so everyone can refer to them after the meeting.
Record meetings for future reference
If you are hosting a Teams meeting for training or an interview, it is best practice to record it. For privacy reasons, do check with all participants if they are happy for the meeting to be recorded before you do.
Once recorded, you can playback both video and audio components of your meeting. These can be used for marketing materials, training videos, podcasts or just listening back for a key quote.
To record, hit the button and select 'Start recording'.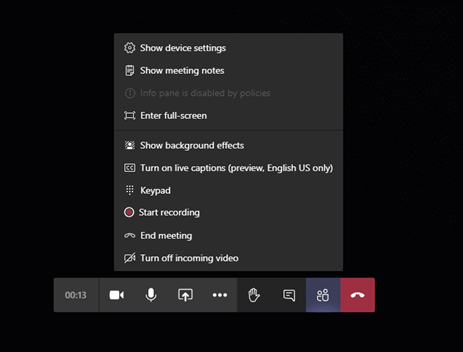 You will know your meeting is recording as Teams will display this message at the top of your meeting.

To download a recording, you have two options: either navigate via Teams from the chat view or use search in Teams if you remember the subject of the meeting (e.g. Weekly Team Meeting).
Switch between desktop and mobile with ease
If you need to take a call on the go after you've already joined on your laptop, open the meeting on your smartphone in Teams to seamlessly transfer the call to your phone. The process is also possible in the other direction.
More resources
Stepping up Teams game (IT Admin) guide (COMING SOON)
Information and Document design guide (COMING SOON)
Step by step guide on how to use MS teams in 2021
How to Sync MS Teams Files with Windows File Explorer (YouTube video)
How to create Share Calendar in MS Teams (YouTube video)