Redkite's goal is to ensure that no family in Australia should have to navigate their child's cancer alone. One of the primary services offered by the organisation is their flagship financial assistance program which helps make sure families don't have to worry about paying bills or buying food while their child is undergoing cancer treatment.  
However, up until 2020, many families could not easily access the service to receive the funds in the timeframe in which they needed it. The system was paper-based, admin-heavy and could take up three weeks to complete - taking up the valuable time of social workers, internal staff and the families themselves. 
"The last thing families in financial distress need is to wonder how they are going to pay a bill while they are going through a cancer journey with their child. We needed to really transform the service so that families didn't have to worry about that", Kirsty Oldroyd, Systems Manager at Redkite, says.
In 2020, 1700 families accessed the service, a 33% increase in demand from the previous year. Redkite's digital transformation was already underway, so the team worked even harder to launch a new, efficient, secure and user-friendly service to meet demand. 
The process 
At the start of their digital transformation in 2018, the team at Redkite took their time to really understand the problems they were solving. Activities included: 
A survey with families to find out how they had found the experience of accessing the service and how they thought it could improve. 
A survey with the social work team who support families directly to understand how the financial assistance program currently worked.
A comparison review of how other organisations manage similar financial assistance programs.
An internal review with staff working behind the scenes to understand the pitfalls and pain points. This included a time-in-motion study, where the time taken to complete each step was documented.
The service was mapped out visually, showing touchpoints and trigger points. 
Once they had a clear picture of the extent of the problem to solve it was time for a discovery phase to explore what the organisation needed in future. This involved: 
A workshop series where teams across the whole organisation brainstormed concepts for what an ideal system could look like and what it needed to do. 
The project team explored possible concepts in-depth, reviewing system capability and cost with the administration, fundraising and financial team, developers, external organisations and software providers.  
"We had to get everybody involved, it was cross-org and it was a huge piece, it was probably up to a year of consultation", says Kirsty. 
Feasible concepts were tested with client groups to gather feedback and refine the solution to ensure the new "myRedkite" portal development would meet user needs. 
Iterations continued to be tested with users and the feedback acted upon. For example, following input from hospital stakeholders during early rollout, the system was adapted to allow parents/carers to provide verbal consent for others to use the portal on their behalf. This is important in family situations where a family may have no internet access or parent/carer English language proficiency is poor. 
Whilst this was a necessarily thorough and collaborative process, Kirsty said there were points where it could have been dropped.  
"Because we are a small organisation, we had to keep everyone on board with the concept to maintain momentum – we needed their buy-in to make sure we had the funds to keep going," says Kirsty.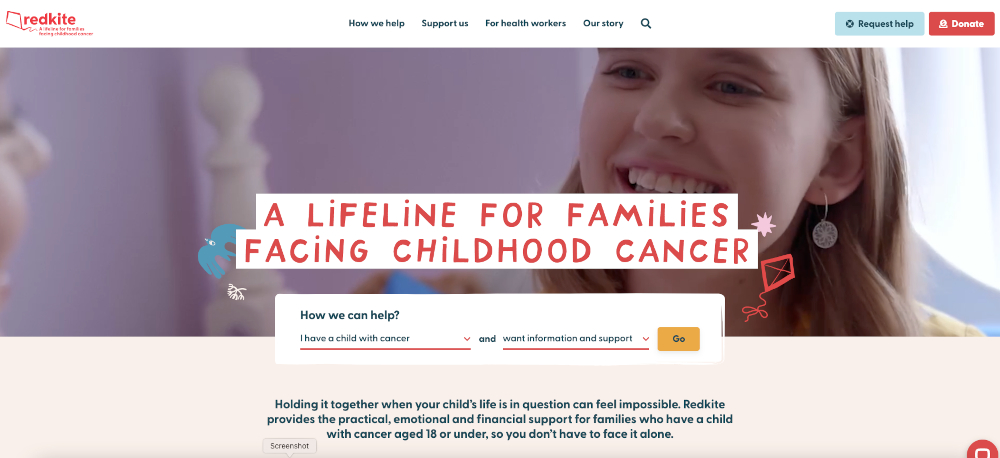 The solution 
Once the team was sure they had a feasible, viable and desirable solution, they engaged a developer to customise Salesforce Communities to create a web-based interaction layer that would integrate seamlessly with Salesforce, Redkite's existing CRM. A key requirement was to be able to collect and store sensitive data securely and not have a stand-alone solution that would have to be managed separately.  
The team worked with a single digital development partner after learning that having multiple developers working on different aspects of the system was less effective. 
Another key piece of work that took place in parallel was the redevelopment of the organisation's Wordpress website. Redkite has in-house developer who is responsible for the website and makes sure the whole ecosystem of digital services, including the new MyRedkite portal, make sense together. 
With MyRedkite phase 1 now up and running, the team are well on their way to achieving their goal of it becoming a one-stop-shop for families. 
The next phases are: 
phase 2 – access to education grants and scholarships 
phase 3 – book counselling services online and a digital book club. 
Digital transformation impact 
The organisation has been able to measure the positive impact of the transformation in many ways. 
Firstly, via feedback from families. The team carried out multiple rounds of user testing with families from three hospitals. All users reported the system being much easier to access. One parent commented, "it gives you helpful information picked for you" and another, "It takes a single click to get to places that are useful".  
Health professionals who previously applied for financial assistance on a parent or carer's behalf were enormously positive about MyRedkite's ability to save time, freeing them up for more clinical work with families.  
There has been an 80% reduction in administrative steps required to pay a parent/carer's bill or send them a voucher. 
The time to access e-vouchers has reduced from 2-3 weeks prior to transformation to 2-3 days. 
There is greater transparency for families. They can now log in and easily see how much financial assistance is available. This has helped them feel more in control of their finances and reduces anxiety when it comes to paying bills. 
There is now greater transparency internally at Redkite. Staff can access and utilise data such as how many people are using the system, what for and where they might be getting stuck. 
Since the national rollout of myRedkite more than 950 parents or carers have accessed the portal. 
Advice for other not-for-profits 
We asked the team at Redkite their advice and learnings to share with other not-for-profits who are thinking about making changes to their technology and digital capabilities: 
 What is the overall problem that you're trying to solve? Keep that front of mind and constantly refer back to it. 
Have a roadmap – what are the problems you going to try and solve over the next two to three years? 
You need buy-in across the whole organisation, because a large-scale transformation will require almost everyone to have input at some stage. 
You need resilient staff working on the project. Staff who know there are going be challenges but can overcome them and keep going. 
It's a huge change management process and there has to be a lot of communication and consultation and opportunities for feedback if people are going to change how they work. 
People have to be part of the bigger picture. You might be aiming for automation, but it's the people who are going to use it that you need to design it for. 
Read next