Microsoft Forms overview
Microsoft Forms is fast becoming a valuable tool in the information management kitbag that can help not-for-profits simply create surveys, polls, and quizzes that collect real-time information about a service, internal process, concept, or experience. There are countless uses for this tool including gathering feedback, gauging satisfaction, and improving decision-making based on real-time information.
Microsoft 365 has two perfectly decent survey solutions. Microsoft Forms is the main contender compared to Survey Monkey – and the one we'll be focusing on. Microsoft 365 also offers a survey app within SharePoint Online which is more complex and probably overkill for the typical user which is why we have Forms. Remember it's necessary to have a Microsoft ID to create a form or survey, but these can be shared with anyone.
Given that Forms and Microsoft Teams fall under the Office 365 suite, the software was designed to be used cross-platform. Forms can be accessed directly from Teams so you can setup a Forms tab, add an existing form to gather responses, create a new form, show survey results, create notification from your form, collaborate on a form, or conduct a quick poll within a team. All these functions occur within the Microsoft Teams work environment. Otherwise, you may use from web browser.
Microsoft forms is included in most non-for-profit 365 plans – find more information here.
Three ways Forms can benefit your non-for-profit
Creating a Survey
Identify potential new donors
Learn more about your donors, clients or employees
Market research to develop new strategies
Examine and solve your non-for-profit concerns
Identify new opportunities
Making a Quiz
Educational purposes
Use to create case studies
Help increase email subscribers
Include in a thank you email
Building a Poll
Community building by sparking engagement
Obtain free service or product feedback
Gain more understanding of your customers, donors etc.
Create content generation by showcasing results
Increase traffic to the website
Where to find
To find the app, open your Office 365 Home Page via web browser and look at your list of apps. If Forms isn't showing, click 'All apps' and you'll find it listed in there.

Or go to Microsoft Teams and click add a tab to locate the Forms app>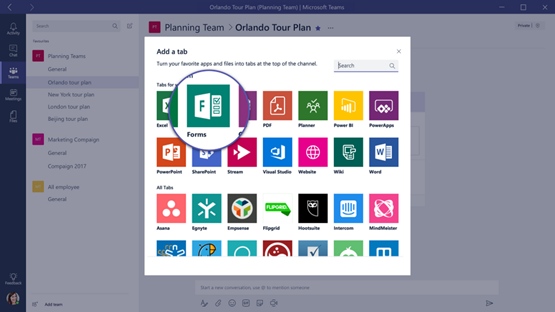 How to create
For creating a form in Forms application here is a 1 minute video or step by step instruction using whatever preferred learning method you like.
In Microsoft Teams, you can add a Forms tab so you can create a new form or add an existing one that your entire team can edit. Please find Step by step instructions on how to create a survey and poll in Forms via Microsoft Teams or enjoy videos instead, watch our recommended content, here.
Sharing & collecting data with ease
Sharing a Form is as simple as opening the form you wish to share, click the Share button, and copying a link to the form's URL. Simply paste this link into an email, Teams message, or any other communication tool to share with your audience. To stop sharing a form, you need to open the Share window and click the trashcan icon which will remove the Collaborate URL link. This is beneficial when you are no longer accepting new responses after a predetermined time. 
With real-time analytics, data collected through Microsoft Forms is easily converted to useful information for you and your non-for-profit. You can even monitor completion and submission of forms and quizzes through email notifications. In addition, it will allow you to view the summary of responses in charts, making it easy to analyse and determine valuable insights. For a more comprehensive data analysis, you can download the responses in Microsoft Excel.
Features
We have touched base on how to create a Microsoft Form, but it is a Microsoft product, so there are quite a few cool things that you can do with these Forms. Let's take a look what Forms has to offer, and how we can leverage them to help us get more engagement from our audience.
Accessible by external users
First cool feature is setting up forms to be available for users outside organisation and without 365 accounts. Simply click the "share" button and changing the drop down from "only people in my organisation can respond to "anyone with link can respond".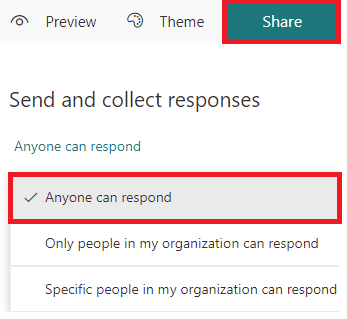 Multilingual
Great feature is accessing forms in multiply languages. To do this simply click "settings" then "multilingual and select "add additional language", it will provide a drop-down secondary language you can select from. Once you click pencil icon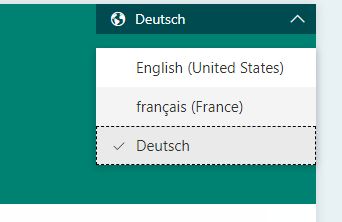 Branching in MS Forms
Branching is when you give a user two or more options to choose from. Each option on the list has a pre-set action/event that should follow the user picks. In Forms, you can use branching to guide a user to the section that holds what they need.
Using branching in Microsoft Forms, makes sure you get the right responses from the right people in the right places.  
Note that branching is not available on every licenses and Forms Pro may be required.
Math keyboard
Standard keyboard may be missing some character and symbols that you cannot find. Microsoft solved this problem by adding a virtual Math keyboard into Microsoft Forms. So, when you need to write some equations into your forms, all you must do is choose the math option, click on your keyboard icon, and start typing.
Styling
Microsoft Forms gives you the ability to customise forms whereas other survey tools need you to pay first before styling. Branding with images and colour customising your surveys is often important to organisations that want to maintain their company look and identity.
Email submission notifications
Another great feature is ability to receive an email and send an email when form has been completed. To do this, go to "…", then "settings", and see both options under notifications tab.
Anonymous submissions
This next feature is a must when you need to keep Forms entries anonymous. By default, it captures the first and last name + email address of the users submitting the form. However, sometimes there might be a requirement to keep entries anonymous. You can easily do that by unchecking the "Record name" checkbox.
Custom Thank you messages
Another quick feature that can bring people peace of mind is send Thank you message once form has been completed. This will pop-up when audience has completed form. To implement this, click into "settings", and then check off "customised thank you msg" enter your message.
File attachments
The last feature we think is great is the file attachment capability. It allows for files to be submitted (attached) with the form. It is important to note that the file attachments are stored in the /Apps/Microsoft Forms folder in OneDrive if the form is created/belongs to the User and in /Apps/Microsoft Forms folder on a SharePoint site (in a default document library) if the form is a Group form.
To allow someone to add an attachment, again, make sure that it is an internally shared form. Then, add a question just like you normally would, but this time, select the drop-down at the end and select "File upload".


Integrations
MS Teams Integration
Forms, like with many other Microsoft apps, integrates well with Microsoft Teams. It automatically blends into the Team that you use daily.
Teams' integration is useful because you can easily create your survey by adding a new tab in a Teams. Share it right within your team's channel, using the chat feature, without using any external links.
SharePoint Integration
Microsoft Forms offers seamless document integration with SharePoint. You can easily store and access your forms within SharePoint and further integrate it within a site such as an intranet.
Real time integration with excel
Another great Forms feature is its ability to blend with MS Excel. Both Forms and Excel are part of 365 applications. This means you can link your Microsoft Forms Survey or Quiz to an Excel Spreadsheet. When you link the two applications together, after someone responds to your survey, Excel will automatically collect their answers and update the results in real-time.
In short, you will always have the results of your survey in an excel spreadsheet that is up-to-date and ready for use without any extra effort on your part.
Integrates with Stream
Microsoft Forms can integrate with Microsoft's Stream video-sharing service. You can use Forms in Microsoft Stream, by inserting forms within your non-for-profit videos.
Consequently, when someone is watching your video, the forms will pop up at specific timelines to interact with the viewer. The viewer then responds before continuing to watch the rest of the video.
Summary
Forms is a very simple and intuitive application, which is a fantastic solution for businesses that have it included within their Microsoft 365 subscription.
Some survey software such as SurveyMonkey or Typeform have free plans, but these typically have limits on what you can do before you need to upgrade to the paid version. For example, you might only be able to add 10 questions and limited to 100 responses. More advanced features such as adding conditional questions or branching are possible with Microsoft Forms, making this an effective survey solution that is worth paying attention to. Even better, IT administrators can retain control and turn off access to users if required – allowing your organisation to keep control of the applications that staff can use.
All in all, Forms is a great option for your business – especially as it's included with most NFP 365 subscriptions.
Additional resources
Microsoft Forms for non-for-profit
Top 25 Microsoft Forms tips and tricks for 2021
Microsoft Forms | 9 new features for 2021